Locations
Bang Saen Beach


Bang Saen Beach, 100 km southeast of Bangkok and about 10 km from the provincial capital of Chonburi, is a day trip for residents of Bangkok, and is visited mostly on weekends by Thai tourists looking for a relaxing day on the sand. Eclipsed in recent decades by Pattaya, it was once the favorite getaway for Bangkok's elite. Now it attracts mostly Thai families and teenagers looking for a brief, low budget holiday weekend.

Tall coconut palms shade the promenade which borders the long curving sweep of beach. Ocean World amusement park is located on the road which runs behind the beach and features several swimming pools, slides and a small roller coaster. Local vendors sell fruit, seafood and snacks, such as squid, mussels and spicy steamed fish cakes, and rent chairs, multicolored umbrellas and other beach paraphernalia. Shower facilities are available. Inexpensive guesthouses, bungalows and a small resort cater to those who choose to stay more than one day.

Sriracha Tiger Zoo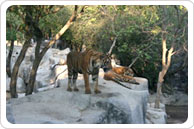 This is well-maintained zoo with hoards of crocodiles, Bengal tigers, camel, deer, scorpions and more.There are four different shows at various times during the day, including crocodile and tiger shows. The Zoo maintains that it is the most successful program for breeding tigers in captivity anywhere in the world. Circus shows include pig racing, ostrich racing, and female performers who wrestle with crocodiles or cover themselves with scorpions.




Khao Kheow Open Zoo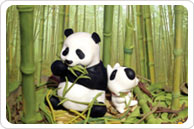 Local in Tambon Bang Phra, This famous zoo operated by the Zoological Garden Organisation and covers the vast tract of the forestland.
Khao Kheow is a magnificent blend of forests, wild animals, bird aviary and responsible animal management. Sponsored by HM Queen Sirikit, the zoo has grown in size, scope and importance. Internationally recognized for its animal management and operations, the zoo has features that make it a great day trip for the entire family. More than 300 species and 8,000 animals populate the 5,000 rai sanctuary. Night Safaritours by auto-trams which is an optional where you can enjoy the a dinner in a natural atmosphere.

Pattaya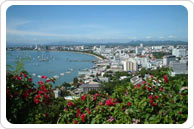 Pattaya is nestled along a picturesque bay on the East Coast of the Gulf of Thailand, roughly 170 kilometers southeast of Bangkok. From a fishing village in the 1960's, Pattaya has emerged as the favorite Southeast Asian vacation center. A fascinating escape where tourists, holiday makers and vacationers from around the world unfold an incomparable array of possibilities to unwind during an exotic holiday beach vacation.

Unlike other beach resorts, where natural surroundings are used as magnets to attract tourists, Pattaya makes an all-out attempt to provide the best of everything. Here, everything means everything a tourist can imagine while on holiday: recreation, entertainment, sports, sightseeing and fun. To put it simply, Pattaya is a paradise for everyone, as it has a variety of attractions suitable for all types of visitors. This is the place where you can fill your day, from dusk to dawn, with endless activities, or you may choose to do nothing at all and relax.

Underwater World Pattaya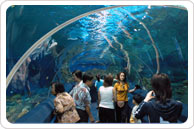 A new tourist attraction in town is the largest and most modern ocean aquarium in Asia, boasting a 100-meter-long, 6.4-centimeter-thick acrylic pedestrian tunnel through an underwater environment filled with dozens of marine species.

Located just 200 meters south of Tesco Lotus in South Pattaya, the new theme park covers a total area of 12-rai and is housed in a structure similar to a large circus tent.

The aquarium itself houses more than 4,000 marine animals, comprising more than 200 different species from the region as well as some rare creatures from overseas. Top in the Visitors must-see list is the rare shovelnose ray, a hybrid between a shark and a stingray.

Kolan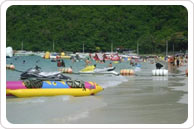 Lying about 7.5 kilometers off of Pattaya by a 45-minute ferry or 15 minutes by speed boat ride, the island measures 2 kilometers by 5 kilometers and offers several white sandy beaches, notably Hat Ta Waen, Hat Laem Thian and Hat Thong Long, the latter facing coral reefs. Visitors can choose either snorkeling or viewing the coral from glass bottom boats. The island is somewhat an extension of the mainland activities, featuring water sports such as diving snorkeling, windsurfing, waterskiing and para-sending. A key attraction is boats sailing around the island for sightseeing purposes.


Ripley's World of Entertainment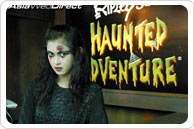 It is located on the 3rd floor of the Royal Garden Plaza Department Store on Pattaya Beach road. The tourism activities are as follows.

1. The Ripley's Belive It Or Not Odditorium is a museum of a large collection of more than 300 stories and pieces of oddities and amazementsfrom all over the world, owned by Mr. Robert Ripley, an American man.

2. 4D Cinema is a cinema of the future with a special system, creating a feeling of being an actual situation amoung the viewers.

3. The Miracle Labyrinth witness the modern special effects of lights, colours and sounds in the 16 rooms, as well as, admire the beauty of the mysterious dimensions and illusions.

4. The Hunting Warehouse take an adventure in one of the 5 biggest coffin warehouses of the world.

Nong Nooch Tropical Garden And Resort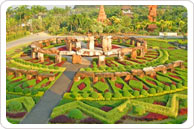 On this piece of verdant land spanning about 652 acres, is located an exceptional tropical gardens & Resort where tremendous varieties of plants featuring rare exotic Palms, Cycads, Trees, shrubs vines collected from all over the world, are planted around our gardens. All are just waiting for you to come and enjoy

Thai cultural show, where you can enjoy our authentic performances in relaxed atmosphere, our performers display elegance in their costumes, music, and dancing movements.
"Elephants Show" - our smart and funny elephants. You will always enjoy the show as they participate in sports, dancing, painting, and their activities for your enjoyment.

"Garden Activities" activities such as elephant riding, bicycles, paddle boats or walking via our skywalk, just to see how beautiful our gardens can be from this over view.

Cha'am & Hua Hin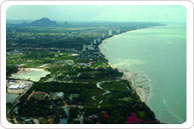 Cha-am is a district in Phetchaburi province, located about 160 Kilometers from Bangkok. Hua Hin is a district in Prachuap Khiri Khan Province located 295 kilometers south west of Bangkok. For both, the beach, on the Gulf of Thailand, is ideal for swimming, any water sports, as well as long walks or horseback riding in the breeze. Both destinations boast a large range of hotels and resorts, excellent seafood dining, fresh markets and souvenir shops. Located on the sunrise side of the Gulf of Thailand, Cha-am and Hua Hin are quiet relaxed coastal towns, perfect for family vacations, or golf holidays with many international standards courses.


Ko Samet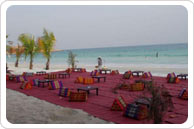 A favorite get-away island for Bangkokians, Ko Samet offers extensive pristine beaches with clean white sand and strangely shaped rocks. A haven for relaxation, this T-shaped island is a perfect retreat for those looking for sun, sand and sea. The climate is always pleasantly cool with an abundance of rain in August and windy monsoons in May.
One of the most beautiful and most popular beaches on Koh Samet, Hat Sai Kaew is 1 kilometer long and 25-30 meters wide. The name speaks for itself, Hat Sai Kaew, which literally means Crystal Sand Beach, is a nice beach filled with activities. From dusk to dawn, visitors can enjoy sunbathing, swimming, jet skiing, windsurfing, riding on a banana boat or even partying at night.

Kanchanaburi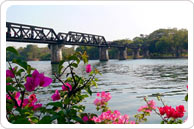 Which has mostly mountainous terrain, covers an area of approximately 19,473 square kilometers and is the third largest province in Thailand after Chiang Mai and Nakhon Ratchasima. Situated approximately 129 kilometres west of Bangkok, Kanchanaburi shares a border with Myanmar to the west, Tak and Uthai Thani Provinces to the north, Suphan Buri and Nakhon Pathom Provinces to the east, and Ratchaburi Province to the south.
The magnificent landscape and charming beauty of Kanchanaburi have resulted in major tourist attractions including several well-known waterfalls, caves which were once inhabited by Neolithic man, pristine national parks, tranquil rivers, virgin forests, and reservoir. Together, they offer an intriguing experience for first-time or repeat visitors. Whether its fishing, rafting, canoeing, mountain biking, bird-watching, star-gazing, golfing, elephant and jungle trekking, or even living in bamboo rafts, Kanchanaburi takes pride in offering them all.

Ko Samui


Koh Samui (--- in Thai language) is the island of the coconut trees and the third largest island in Thailand (Only Phuket and Koh Chang are larger by size).

The total area is about 247 km² and it is located in the Gulf of Thailand, 700 km South of Bangkok in the Surat Thani province.

Well known beaches are Chaweng, Lamai, Bophut, Big Buddha, Choeng Mon, Hua Thanon and Maenam. Samui do also has many sister islands; Koh Tao (top diving destination in Asia), Koh Phangan (known for it's Full Moon Party etc.), Angthong National Marine Park, Koh Tan and the spectacular Koh Nang Yuan.

Sairee Beach is the longest beach on Koh Tao by far the most popular. It is about three kilometers in length and located north of Mae Had, on the west coast of the island. Here you will find numerous diving centers and diving schools as well as 7-Eleven stores and many restaurants.
Mu Koh Angthong became a national park in 1980. It consists of 42 islands of which Koh Wua Talap (the island of the sleeping cow) is the largest one.

There is a nice beach with white sand on the island of Ao Kha and you will also find a small national park office and a camping site here.

North of this island you will find Koh Mae Koh. On this island there is a beautiful inner sea named Talay Nai. It is about seven meters deep and has a few viewpoints. It is worth visiting even if you'll have to walk (and sometimes almost climb) for some time to get there. There are also two beaches on this island suitable for swimming: Ao Na Thap and Ao Tham Rang.

Koh Chang Island


Koh Chang Island lies off the eastern coast and is part of an archipelago consisting of more than 100 islands of different sizes, most of them uninhabited. Koh Chang, the main island, is the second largest island of Thailand, covering 429 sqkm, therefore being nearly twize the size of well-known Samui Island on the other side of the Gulf of Siam. High mountains, covered by virgin rainforest, appear to rise directly from shoreline cliffs - Koh Chang Island is a dark silhouette on the horizon. From the mainland the distant mass resembles a giant elephant rising almost to the base of the frequent clouds. This gives the island an abundance of waterfalls and streams and a rugged and almost impassable interior that has so far escaped mass tourism development.

Koh Chang National Park offers an array of activities including rain-forest hiking, elephant trekking, snorkelling, fishing, diving, boating, mountain biking, motorbiking, or visiting the local villages and waterfalls.

Krabi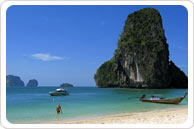 Krabi Located approximately 814 kilometers from Bangkok is Krabi Province, one of most attractive destinations in southern Thailand. Encompassing an area of 4,708 square kilometers, the western border of Krabi is the Andaman Sea, the northern borders are Surat Thani and Phang-nga Provinces, the southern borders are Trang Province and the Andaman Sea and the eastern borders are Nakhon Si Thammarat and Trang Provinces. Krabi is an ideal getaway destination teeming with natural attractions including white sandy beaches, fascinating coral reefs, numerous large and small islands and verdant forests with caves and waterfalls..

In addition, Krabi is the location of two world class beaches Ao Nang and Hat Rai Le which offer numerous diving trips, restaurants, shops etc. Additional attractions in the province are stunning limestone cliffs and rock formations which make it a heaven for rock climbers and a National Park located approximately 40 kilometers outside of town with lakes, caves and spectacular natural scenery.

Railay Beach (Thai:----) is a small peninsula located between the city of Krabi and Ao Nang. Accessible only by boat due to the high limestone cliffs cutting off mainland access. These cliffs attract rock climbers from all over the world, but the area is also popular due to its beautiful beaches and quiet relaxing atmosphere

Mu Ko Phi Phi - Phi Phi Islands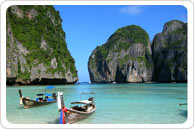 Mu Ko Phi Phi - Phi Phi Islands are located just 40 kilometers away from both Krabi and Phuket. Thus, despite the fact that both Noppharat Thara Beach and Phi Phi administratively are a part of Krabi Province, most tourists think that Ko Phi Phi is part of Phuket Province. Phi Phi Islands have become one of the most popular tourist attractions in Thailand. The islands and the coastal hills are composed mainly of limestone and are an extension of the limestone mountain range in Phang-Nga Province. The main characteristics of these mountains and islands are their steep cliffs, large caves and dwarf trees growing out of the rock crevices, like those in Phang-Nga Bay.

The island group is composed of two rocky, tree-covered islets Phi Phi Don and Phi Phi Le.
Ko Phi Phi Don - covers an area of 28 square kilometres. Outstanding attractions are the twin bays with curving white sandy beaches of Ao Ton Sai and Ao Lo Da Lam.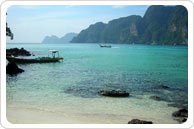 Ko Phi Phi Le- Covering an area of only 6.6 square kilometres, this islet is surrounded by limestone mountains and sheer cliffs plunging hundreds of metres to the sea. The sea is 20 metres deep and the deepest point in the south of the island is around 34 metres. Ko Phi Phi Le offers superb scenic bays such as Ao Pi Le, Ao Maya, and Ao Lo Sa Ma. In the northeast of the island is a large cave called Tham Viking. The cave was renamed Tham Phaya Nak or Naga Serpent Cave by His Majesty King Bhumibol Adulyadej because of a stone resembling the mythical creature, which His Majesty saw when he paid a visit here in 1972. The cave is considered sacred to locals who come here to collect swallow nests.

Phang-nga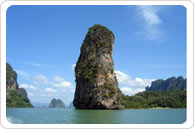 The province of Phang-nga is located some 788 kilometres from Bangkok. It covers an area of 4,170 square kilometres.

Phang-nga is a province with two characters - land and sea - and packed with national parks that guard magnificent scenery with immensely different attractions.

Most famous is Ao Phang-nga National Park, a geological wonder filled with islets, sunken caverns and startling rock formations rising sheer out of the sea. The bay is extremely sheltered ideal for expeditions of sea canoes to explore the many fascinating caverns with their own eco-systems.
Phang-nga's andaman coast offers parks of a different kind. The island groups of Surin and Similan are renowned for their beautiful unspoilt beaches and spectacular underwater scenery, attracting divers from around the world. Khao Lak is a coastal park full of birds, mammals and scenic waterfalls, with a number of hotel developments after Tsunami disaster in December 2004.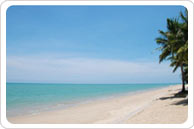 Khao Lak Seaside is located 32 kilometres from Amphoe Takua Pa and offers another popular seaside attraction. There is a wide sandy beach with rocks of different sizes. The atmosphere is relaxing and suitable for swimming. It is a nice place to admire the setting sun. It is also a location of many hotels and resorts with designs of accommodation and landscapes that blend harmoniously with the seaside ambience: serene and shady with pine trees and coconut groves on the beach. Its intact nature is gaining popularity among Thai as well as foreign visitors.



Phuket

Located approximately 862 kilometers south of Bangkok is Phuket, Thailand's largest island, which is often dubbed as the pearl of the Andaman, or the pearl of the south. Its natural resources- rocky peninsular, limestone cliffs, white powdery beaches, tranquil broad bays and tropical in-land forests contribute to making it the South's wealthiest, busiest, most visited and most popular island and province. Nestled in the tropical zone off the west coast of the southern part of Thailand in the Andaman Sea and the Indian Ocean, the province covers an area of approximately 543 square kilometers (excluding small islets).

Phuket has a lot more to offer its visitors other than its natural heritage sea, sand, sky, beach, forest, and world renowned diving sites. Sino-Portuguese architecture casts its spell delighting travelers to the city, while Phuket-style hospitality has never failed to impress visitors from all walks of life.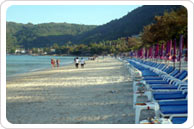 Hat Patong (Patong Beach): This Beach is the most developed, most vibrant, most visited beach of Phuket that never fails to impress visitors. Located approximately 15 kilometers from the city, the beach has a wide range of accommodations and shopping arcades, and provides magnificent leisure activities and energetic night-time entertainment. It is a picture perfect postcard view of a 3-kilometer long white sandy beach that is perfect for swimming, lazing, and enjoying challenging water sports such as jet skiing, windsurfing snorkeling, sailing, and parasailing.


Karon Beach, featuring an incredibly long stretch of squeaky white sand, is less hectic than Patong but it still offers a full range of facilities, dining and activities. While it's a fast-growing area, Karon is nicely spread out and rarely feels crowded. Karon is concentrated around three main areas.

Kata Beach:- The pleasant bay of Kata, just a few minutes south of Karon Beach, entices many with its white sands and clear waters. Very popular with families, Kata is an all round favourite due to it's spectacular beach, great restaurants, lively but not raucous nightlife and not to mention varied accommodation options - all close to the beach.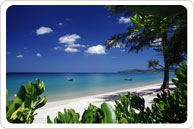 Bang Tao Beach is a study in contrasts, with the luxurious resorts and villas along its 6km (4 mile) stretch of beach just a few minutes' away from the town of Cherng Talay, where many villagers still make their living as their ancestors did - by fishing, farming and rubber tapping. The northern tip of the beach, so far untouched by development, is still an area where visitors might find that they have the beach to themselves.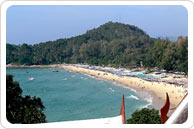 Surin Beach:- Naturally beautiful Surin is known as 'Millionaires Row' due the the top-end celebrity haunts Amanpuri, Twinpalms and Ayara Hilltops amongst the luxury resorts there, as well as the many luxurious villas that sit proudly on top of the hills overlooking the Andaman Sea. Although popular with tourists it's not a busy resort town, more like a coastal village. Fine white sand and turquoise water has ensured that the picturesque beach is very popular with tourists and Thais alike.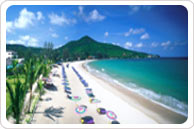 Kamala beach :- This well-enclosed bay and fishing village has developed rapidly in recent years yet it still retains a small-town feel. Popular with families, Kamala Beach is lined with casual restaurants and food stalls, with good snorkelling at the rocky north end.







Nai Thon Beach:-One of Phuket's best-kept secrets. Approaching this quiet beach of silky white sand is spectacular in itself - a drive on the coastal road from the south takes you through forested hills while the northern approach winds through a lovely valley and small village. Once you arrive, swim, sunbathe and marvel at how few people have discovered this little piece of paradise.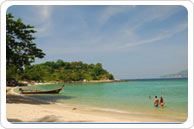 Paradise Beach will surprise you. For a start, it's stunningly beautiful; one of the most attractive of the many wonderful beaches Phuket has to offer. It also features safe swimming all year round. It's compact and has a great view right across Patong Bay. The beach itself is barely 150 metres long and there is another small beach next to it, reached by a path through the rocks.